New dinosaur fauna discovered in Chongqing will fill gaps in dinosaur space-time distribution
Time: 2019-12-17 Source: People's Network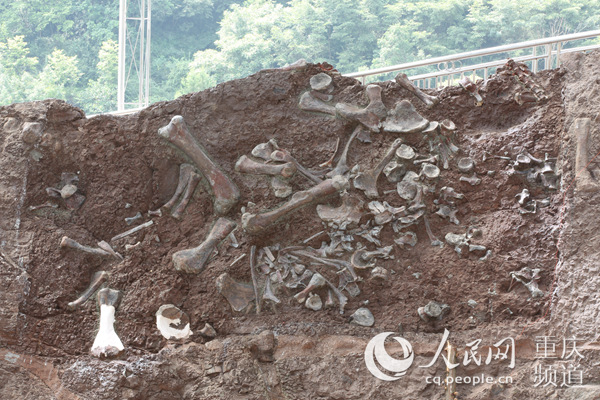 Fossil wall sauropod refining area in Yunyang Dinosaur Area 1. Photo courtesy of Chongqing Planning and Natural Resources Bureau
Shu Long Shelving. Photo courtesy of Chongqing Planning and Natural Resources Bureau
People's Daily Online, Chongqing, December 16 (Cui Jia, Hu Hong) On the 16th, reporters learned from the Chongqing Symposium on the Conservation and Research of Dinosaur Fossils in Yunyang, Chongqing, on the 16th Annual Academic Symposium. Paleontology fossil and sedimentology experts discussed at the meeting and agreed that the Xintiangou Formation in Yunyang, Chongqing, is a new dinosaur fauna, and its research results will fill the space and time of dinosaurs in the early Early Jurassic and early Middle Jurassic in the world A blank on the distribution.
It is understood that a new fauna refers to an era (longitudinal), regional (horizontal) that is significantly different from earlier or later than its era, has a specific geographical distribution space, and has diverse and unique combinations and representativeness. Fauna combination of new genera. This means that the dinosaur fauna of the Xintiangou Formation in Yunyang has its unique characteristics, and it is important to understand the entire dinosaur evolutionary sequence.
According to the relevant person in charge of the Chongqing Municipal Planning and Natural Resources Bureau, since the discovery of the Yunyang dinosaur in 2015, the Bureau has organized investigations, excavations, protection and research. At present, exploration and excavation work has been carried out in some fossil-concentrated areas, and nearly 10,000 fossils have been excavated and collected. The identified fossil outcrops have a length of 18.2km and a distribution range of about 54km, which is a multi-level output distribution that spans the early to late Middle Jurassic time. Fossils are mostly located in the strata of the Middle Jurassic Shaximiao Formation and Xintiangou Formation, and a total of 17 fossil layers have been found.
"The sedimentary environment of the Xintiangou Formation in Pu'an, Chongqing, was the shallow lake sediment, and the first section of the Shaximiao Formation transitioned from the sedimentary environment of the delta front to the shallow lake sedimentary environment," said a well-known sedimentologist.
According to expert analysis, Chongqing Yunyang dinosaur fossils have a wide range of distribution and a large span of time, which can be called "the Great Wall of Dinosaur Fossils". At present, the original fossil wall with a length of 150m, a height of 6-10m, and an exhibition area of about 1,000 m has been excavated in the first area of the fossil concentration area. Nearly 5,000 fossils have been exposed on the surface of the fossil wall, which is a world-class Jurassic site. Monolithic fossil wall.
"Late Early Jurassic-Early Middle Jurassic was a critical period for the evolution of dinosaurs. The emergence of many subgroups and the emergence of some important features, such as the evolution of dinosaur giants, occurred during this period, but relatively speaking Worldwide, the fossil record of this period is relatively poor, "experts said.
It said that Chongqing Yunyang's dinosaur fossil group has rich types of fossil combinations. At present, two new dinosaur genera have been discovered, and a new theropod dinosaur has been named "Puan Yunyang Dragon" and a new bird's hip. The dinosaur was named "Modaoxi Three Gorges Dragon". The excavation and research of other dinosaur fossils also showed that there are various types of animal combinations in this area, which are different from other known dinosaur fauna.
It is reported that up to now, two papers have been published in international SCI journals, and one paper has been published in the domestic core journal "Journal of Ancient Vertebrates". Fossil skeletal taxonomy research has been carried out, mainly in the five directions of theropod dinosaurs, sauropod dinosaurs, basic new bird rump dinosaurs, snake-necked dragons and turtles.
Editor-in-chief: Wang Diantong