Building a strong brand together, Li Baoshan, president of the People's Daily, put forward four points
Time: 2019-12-19 Source: People's Network
On December 18, the Fifth China Brand Forum, hosted by the People's Daily, was grandly opened in Beijing. The theme of this forum is "Quality and Brand Power". Wang Dongming, vice chairman of the Standing Committee of the National People's Congress, Li Baoshan, president of the People's Daily, Li Chenggang, assistant minister of the Ministry of Commerce, Ren Hongbin, deputy director of the State-owned Assets Supervision and Administration Commission of the State Council, and Gan Lin, deputy director of the State Administration of Market Supervision, attended the opening ceremony and delivered speeches. The editor-in-chief of the People's Daily, Li Zhen, presided over the opening ceremony.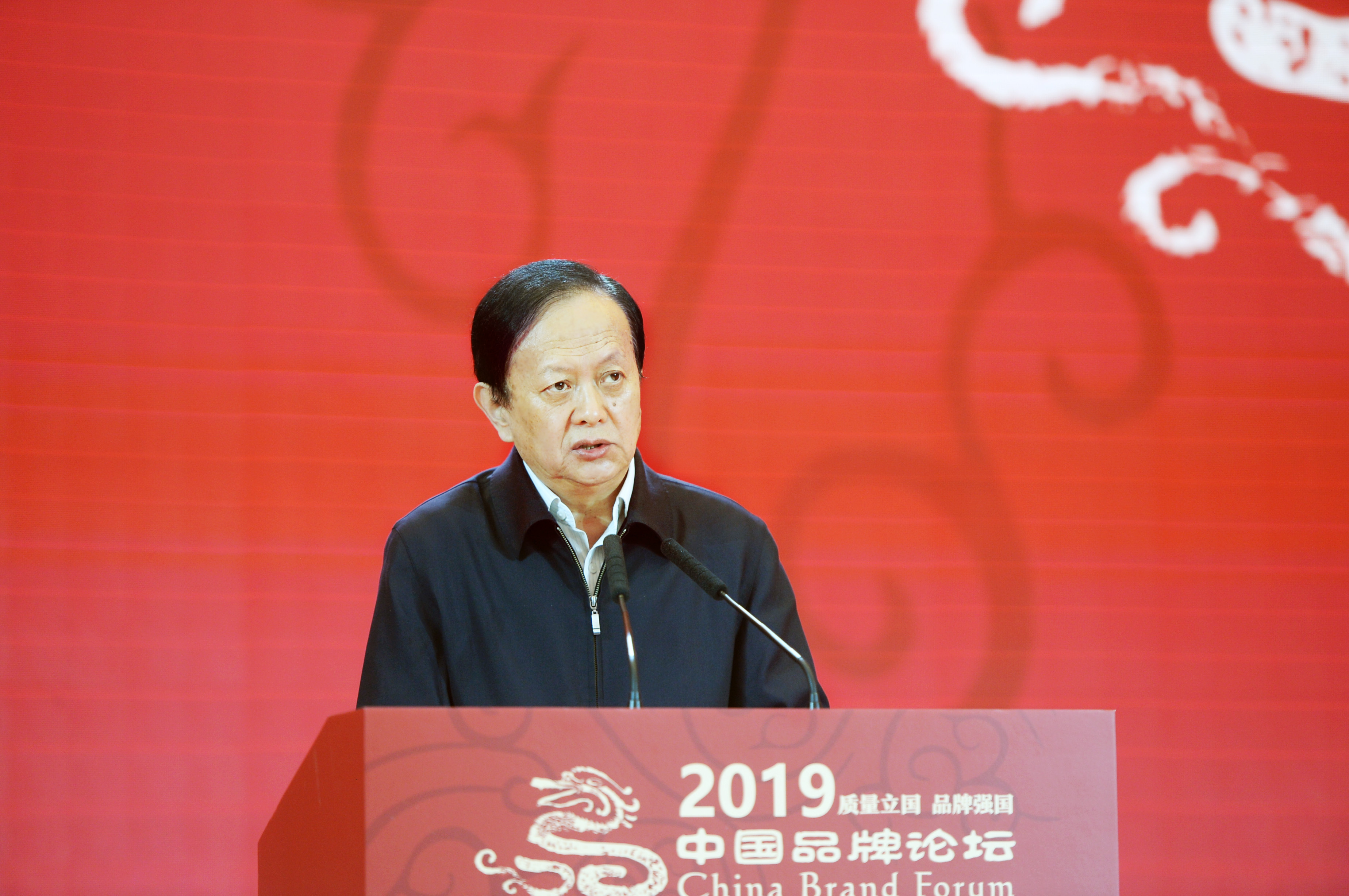 Speech by Li Baoshan, President of People's Daily
Li Baoshan, president of the People's Daily, delivered a speech entitled "Building a Brand Together, Building a Strong Country and Sharing a Beautiful Life" at the forum. In his speech, Li Baoshan pointed out that we are more confident, more confident, and more powerful than ever in building a strong brand. On co-building a strong brand nation, Li Baoshan made four points.
The following is the full text of the speech:
In the 70th anniversary of the founding of New China, just after the Central Economic Work Conference, the People's Daily held the 5th China Brand Forum, which focused on the theme of "Building the Country with Quality and Strengthening the Country with Brands". First of all, on behalf of the forum organizer, I extend a warm welcome and heartfelt thanks to all guests for attending this forum!
The 70 years of New China is not only a history of rapid economic growth in China and a marked improvement in people's lives, but also a history of the vigorous development of Chinese enterprises and the overall rise of national brands. From the beginning of the founding of the People 's Republic of China to "nearly nothing", to becoming a country with all industrial categories, from the emergence of brands to well-known brands, the development and growth of Chinese manufacturing and Chinese brands has reflected the great achievements of New China in the past 70 years. Especially since the 18th National Congress of the Communist Party of China, the Party Central Committee with Comrade Xi Jinping as the core has attached great importance to the construction of independent brands. From implementing the new development concept to promoting high-quality economic development, from the General Secretary 's important instructions of "three changes" to the establishment of " "China Brand Day", we are more confident, more confident and more powerful than ever to build a strong brand nation.
In recent years, great progress has been made in the construction of Chinese brands, "national trends" have become fashionable, and "the rise of domestic products" is unstoppable. Data from Alibaba shows that the market share of Chinese consumer brands on Ali's retail platform in 2018 was 71%. The newspaper 's Global Market survey shows that respondents 'net positive impressions of independent brands continued to climb from 22.8% in 2015 to 83.8% in 2019.
However, we must also clearly see that there are not many Chinese brands that really scream internationally, which is very disproportionate to China's status as the world's second largest economy and the largest manufacturing country. In the 2018 "World Top 500 Brands" list released by the World Brand Lab, only 38 Chinese brands were selected. Compared with the major developed countries in the West, China has both the number of brands and the brand quality and value. There are still large gaps. Investigating the reasons, I think there are four main aspects:
First, brand awareness is not strong. Some manufacturers only own and do not want to last for a long time. They would rather OEM, do OEM business, and even imitate and "copycat" other people 's products. They have no courage to build their own exclusive brands. As a result, they have been hovering at the lower end of the value chain for a long time. It's all "hard money."
Second, the brand quality is not high. Creating a brand requires the spirit of craftsmanship, excellence, and pursuit of the ultimate, otherwise it will be difficult to be recognized despite its own brand. The gap between some of our brands and foreign products may seem small, but these details are directly related to the user experience and ultimately affect the brand image and market competitiveness.
The third is insufficient brand concentration. Any product can win a place only after being baptized in the market. Every world-renowned brand needs a long time to cultivate. However, many of our manufacturers can't bear the loneliness of brand building. They are impatient and quick. They just want to be immediate and get rich overnight. Such a mentality cannot build a century-old brand.
Fourth, the brand environment is not good. Brand building is not only the manufacturer's own business, but also the support of the external environment. In recent years, China has made great progress in combating counterfeiting and shoddy products, and protecting intellectual property rights. However, the problems of high tort revenue and low illegal costs still inevitably occupy the growth space of independent brands and dampen the enthusiasm of enterprises.
At present, China is in a critical period of building a well-off society in an all-round way and realizing the goal of the first century-long struggle. There is an urgent need for more high-quality brands to emerge, promote high-quality economic development, and better meet the people's growing needs for a better life. In this regard, the following views are shared with you:
First, cultivating a brand must be conscious of thought and action. Market competition is not only a product contest, but also a brand contest. Brands are national business cards and national images on the international market, and they are both hard and soft. The high-quality development of China's economy calls for world-class well-known brands and advantageous brands. We need to strengthen brand awareness, strengthen brand promotion, and strengthen brand protection, so that creating brands, respecting brands, and maintaining brands become the ideological consensus and conscious action of the whole society.
Secondly, to cultivate a brand, we must pursue quality and improve quality. Brand competition is the highest level of corporate competition. Brand building requires not only "speed and passion", craftsmanship and exquisite craftsmanship, but also years of grinding and nourishment of culture. Only brands that are enthusiastically embraced by generations of consumers can have vitality. Brand building must have "historical patience", adhere to the unity of high quality and high grade, not only create excellent quality, but also infiltrate cultural connotation.
Third, the development of brands requires independent innovation and integration of innovation. Innovation is the driving force and source of brand development. From creativity and design to technology and craftsmanship to marketing and service, innovation runs through the entire chain of brand cultivation. Original innovation, integrated innovation, introduction, digestion, absorption and re-innovation are all needed for brand development. Brands are formed by fusion innovation. Not only do products need innovation, but the system and mechanism for producing products also need innovation. The "hundred-year-old brand" has no future without innovation.
Fourth, building a brand requires corporate efforts and a good brand ecology. "Ten years tree enterprise, hundred years tree brand". The growth of a brand requires the firm's hard work and long-term contribution. It also depends on high-quality government services, strong legal protection, and a good market environment. Creating a market ecology and social ecology suitable for brand growth is the common responsibility of all sectors of society.
People's Daily attaches great importance to the research, dissemination and promotion of Chinese brands, and has held the China Brand Forum for 4 consecutive years. At last year's forum, we announced the launch of the "China Brand Development Index" project; today at the forum, we will publish the results of the "People's Daily China Brand Development Index". Our original intention is to aim for authority, credibility, and leadership, and strive to build an objective, professional, honest, and credible platform for brand research, evaluation, dissemination, and promotion, to help Chinese brand development, and to promote the ecological construction of Chinese brands. This is a new thing for us, and it is inevitable that there are unsatisfactory things. We sincerely welcome all guests and all sectors of the community to make corrections and corrections in order to continue to improve and improve in future work.
Editor-in-chief: Wang Diantong